Philanthropies

---
R
ARA
The Royal Arch Research Assistance (RARA) is a philanthropy of the General Grand Chapter of Royal Arch Masons, International and a generous supporter of the Able Kids Foundation.
Since its inception in 1974, Royal Arch Research Assistance has been the world's leading philanthropy dedicated to helping children with Central Auditory Processing Disorders.
R.A.R.A. contributions of the General Grand Chapter of Royal Arch Masons, International, directly support the Able Kids Foundation.
Director/Chairman ~ Martin A. Evens eEmail: marty@ccrtc.com
Philip E. Fowler, PGHP, REGTr
James H. Hodge, PGHP
Larry E. Gray, PGHP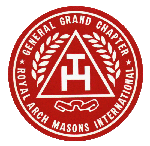 ROYAL ARCH
RESEARCH ASSISTANCE
Philanthropy of
General Grand Chapter of
Royal Arch Masons, International
---
CRYPTIC MASONS MEDICAL RESEARCH FOUNDATION
The Cryptic Masons Medical Research Foundation (CMMRF) was incorporated in the state of Oklahoma, March 6, 1986. The driving force behind the new corporation was General Grand Master Ben Mandlebaum, of the General Grand Council International.The Foundation funds research at ICVBM, which is located at the Indiana University School of Medicine in Indianapolis, Indiana.
Because all blood vessels are very important in maintaining the health or in repairing almost all tissues, nearly all diseases turn out to have a vascular component involved in their origin or in tissue repair. Diabetes, stroke, poor leg circulation, difficult wound healing and many more diseases share a common denominator, blood vessels! Centering our contributions to an organi zation that helps so many different heal th concerns around the world allows our contributors to share in the medical advancements, regardless of their state or country. Through this research, we hope the causes and eventually a cure will be found for Diabetes and many other vascular related diseases.
CMMRF has grown exponentially over the years. Prior to restructuring the foundation in 1986, the former foundation had given $96,000.00 to the Medical Center for research. CMMRF has now given the I.U. School of Medicine $2,524,000.00. We feel that is an excellent record and we are proud of it.
Sometime in 2001-2002 our Lab became a Center of Vascular Biology and Medicine (not just Atherosclerosis). After a 3-year search for just the right person for this "Chair", Dr. Keith March was selected.
Our commitment to support research conducted at the ICVBM will translate into cures and treatments for almost all diseases! We urge you to consider partnering wi th the CMMRF mission to save lives and improve the quality of life.
Thank you for your efforts on behalf of the Foundation. We could not achieve our goals wi thout your help.
Fraternally and sincerely,
Marion K. Crum Marion K. Crum,
PMIGM Executive Secretary
---
Knights Templar Eye Foundation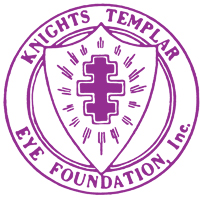 With the passage of the new Healthcare Reform Bill by Congress and a number of other related events, the Trustees of the Knights Templar Eye Foundation, Inc. on August 14, 2010, voted to move out of case processing and redirect the dollars allocated for treatment to research and education.
Effective December 31, 2010, the Knights Templar Eye Foundation will no longer be participating in direct patient care except as is currently done with the Seniors Eye Care Program in partnership with Eye Care America and the Foundation of the American Academy of Ophthalmology.
There were a number of other circumstances involved in the decision such as compliance with the Health Insurance Portability and Accountability Act privacy regulations, computer software replacement, staff retirement, etc., but primarily, the passage of national healthcare was the underlying factor.
The need for our services will be greatly reduced or eliminated. Further, the Knights Templar Eye Foundation had moved over the years from primarily treating children to almost exclusively treating adults for cataracts. Additionally, our cases were processed primarily in only about 25% of the United States due to state government programs. The trustees further felt that research benefits everyone's eyesight no matter where they live, whether in this country or in the other countries where the Grand Encampment has Grand and Subordinate Commanderies.
We have learned over the years that our efforts in funding pediatric ophthalmology research have been the primary reason that we have had fewer and fewer children with strabismus (crossed eyes) to treat. Our research dollars have helped develop new, non-surgical treatments for this problem.
Your Trustees are excited about the prospects of being able to benefit more of humanity by redirecting your generosity from treating 2,000 individuals per year to benefiting untold millions in generations to come.
For more information contact:
Knights Templar Eye Foundation, Inc.
Robert W. Bigley
Indiana Representative
1033 Long Prairie Road, Suite 5
Flower Mound TX 75022-4230
Phone Number - 214-888-0220
Fax Number - 214-888-0230
Email: manager@ktef.us
Knights Templar Eye Foundation, Inc.
David M. Bertch
102 E Seminary St Liberty, IN 47353-1428
(765) 458-5302
Email: dbertch1@gmail.com
Holy Lands Pilgrimage Program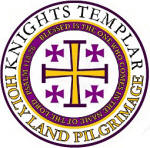 The Grand Commandery of Indiana, in conjunction with the Grand Encampment of the United States of America, sends Christian Ministers to visit the Holy Lands. There they get to walk were Jesus walked while on Earth and visit sites mentioned in the Bible. Pictured below is Sir Knight R. Frank Williams, Past Grand Commander of Indiana, (lower right) and one of the groups of Ministers while on their Pilgrimage.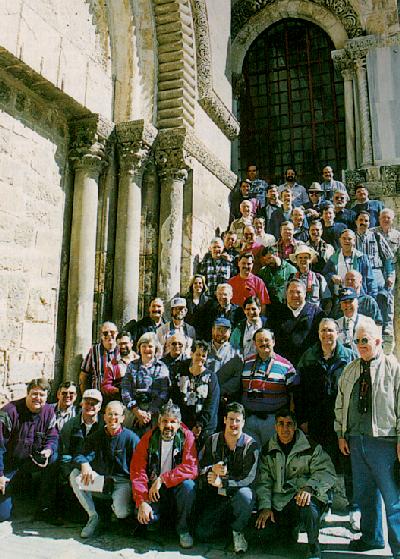 All of the Pilgrim Ministers are recommended for the trip by a local Commandery of Knights Templar and have an established ministry. In many cases, the local Commandery will even pay for the Ministers trip. Further funding comes from the Grand Commandery itself. In all cases, the Minister does not have to pay for anything except incidentals.
Grand Encampment is planning a trip in 2011. We ask you to pray for our program and for peace.
Knights Templar Educational Foundation
"...Freedom can only exist in an Educated Society..."
How the Foundation Began
In 1922, the Grand Encampment launched the Knights Templar Educational Foundation with these words: "We feel the Grand Encampment can build no greater monument than to put into effect a plan which will provide educational advantages for the youth of our beloved Country, thereby enabling them to become more useful members of society and better citizens of this Republic."
The Foundation was sustained and perpetuated by each Sir Knight paying annually the sum of $1.00 for a period of nine years beginning July 1, 1924. Half of the assessment was placed in the Fund for direct investment and the other half was made immediately available for student loans by allocation to the individual Divisions on the basis of their original capitalization-the 1922 membership.
How It Operates
The Educational Foundation is a Trust Fund administered by the Committee on the Educational Foundation of the Grand Encampment of Knights Templar. The national Committee supervises the loan activity among the 50 Divisions (Grand or subordinate Commanderies) which administer the funds and process loan applications. By regulation, the Grand Recorder of the Grand Commandery is the Division's Secretary-Treasurer.
The Foundation, recognizing the need for education is essential, provides financial assistance for vocational, technical or professional training and for undergraduate (last two years) and post-graduate study in accordance with the policies conforming to the Regulations and Standard Practice of the Foundation.
The Knights Templar Education Foundations (one in each state) are autonomous in each state. Each state has different rules and decision processes to award loans or scholarships. In Indiana, up to the year 2007, we helped needy students by providing loans up to $3,000 for each of their junior and senior years, with a maximum of $6,000. These loans were at 5% interest and required repayment on a regular monthly basis beginning 6 months after graduation.
In 2007, Indiana Templar Education Foundation changed its loan process to a scholarship process by awarding one scholarship in the amount of $10,000 for one school year. The scholarship was awarded to a master's student studying for the Divinity. These scholarships will continue to be granted on an annual basis as funds are available. The scholarships are awarded to a university, in our name, located in Indianaand the school departments will determine who best qualifies for the scholarship.